---
---
Big space between tie-tars and opening stroke, for bigger size of moulds.Plug-in card type ejection undercling structure, for mould ejecting restoration.
Message
---
TYD series servo energy saving injecion moulding machine is researched and designed by Taiyide technology team. TYD machine not only inherited the advantages of energy saving, precise control, fast response and reliable performance from traditional TYD machine, also made great improvements in repeatability, plasticizing speed, power comsumption and machine noise. With all those advantages, leading technology implementation. TYD machine has got technology design patents.
High Response Servo Motor
Because using high response servo motor and internal gear pump force system, the machine achieve maximum output 0.05s.
Compared to traditional injection moulding machines, the response speed is faster. Time is shortened and increase the produce efficiency.
Comparison of Repetitive Precision
Superposition of servo motor' s precision and the internal gear pump's precision, through the high sensitive pressure feed
back device to form closed loop. The repetitive precision of the machies is up to 3‰. And compared to traditional hydraulic
injection moulding machines showing greater injection stability.
STANDARDS

TYD1000SV

Injection Unit

unit

A

B

C

Screw Diameter

mm

φ100

φ105

φ115

Screw Ratio

L/D

23

22

20

Theoretical Injection Volume

cm3

4128

4550

5460

Theoretical Injection Weight ( PS)

g

3756

4140

4970

Injection Pressure

Mpa

164

149

124

Injection Rate

g/s

1015

1119

1342

njection Stroke

mm

525

Screw Speed

rpm

0~150

Clamping Unit

Clamping Force

KN

10000

Opening Stroke

mm

1150

Mold Thickness (min-max)

mm

450-1100

Space Between Tie Bars ( WxH )

mm

1100 x1100

Ejection Force

KN

251

Eiection Stroke

mm

350

Ejector Number

p

13+8

Others

Max. Hydraulic System Pressure

Mpa

16

Pump Driving Power

KW

37x3/45x3

Heafing Power

KW

48.7

Oil Tank Capacity

L

2000

Machine Dimension(L x W x H)

m

12.1×2.45x2.80

Machine Weight

T

50
● Please inform us when you have other special requirements.
● The above data are for reference only, Taiyide may subjectto change without prior notes.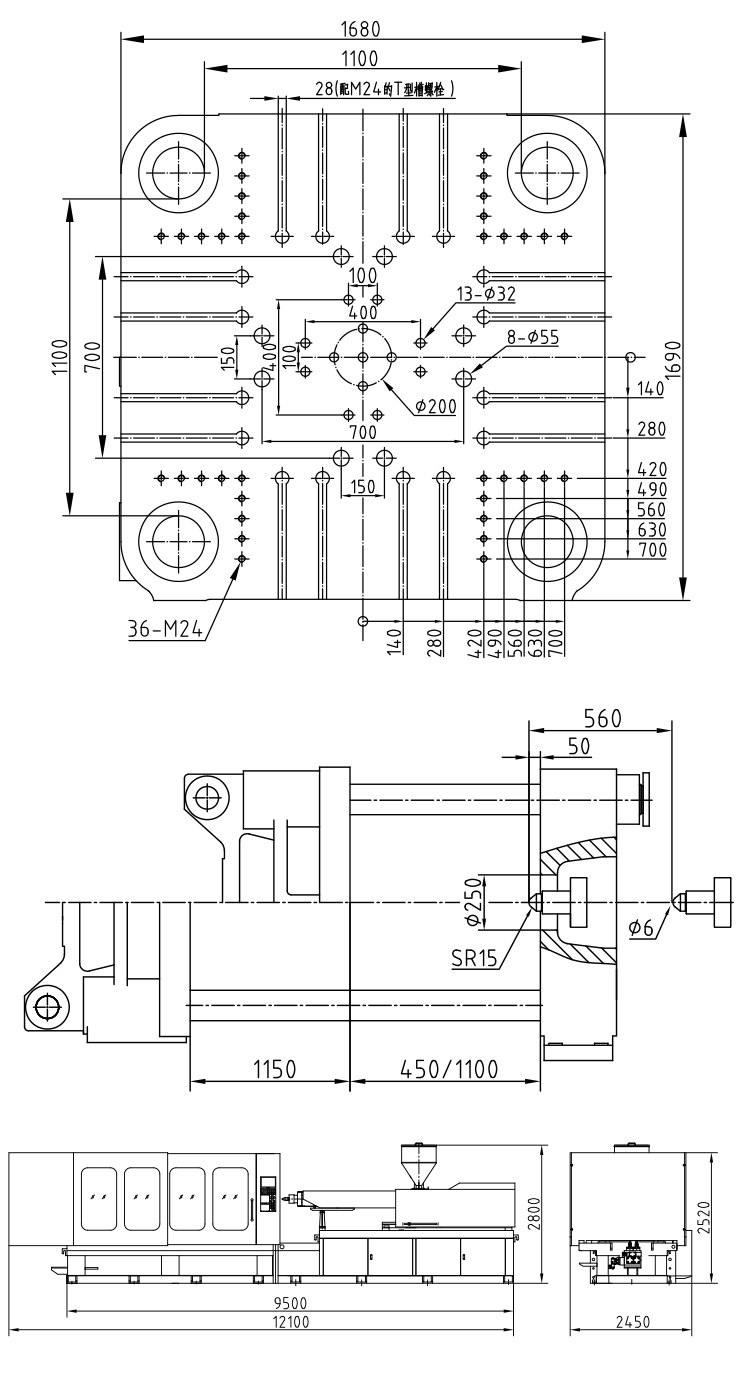 Online Message
---
Thank you for your attention to us. If you have any needs or comments, please leave us a message.